---
Ich hab's ja kürzlich schon mal festgestellt, und diversen LeserInnen ist es auch schon aufgefallen: Musikerinnen sind in diesem Blog bis vor kurzem schlicht und einfach nicht vorgekommen. Und als neulich an dieser Stelle die ersten Frauen ihren Auftritt hatten, nämlich der Backgroundchor von
Rändfull Roodle
, waren diese ja doch nur wieder bloße Anhängsel und schmückendes Beiwerk einer ganz und gar schnöden Jungsband.
Allerallerhöchste Zeit also für diesen Post über die
Flying Whores
- Backnangs erste und bis heute (bzw. bis zum Beweis des Gegenteils) einzige ausschließlich weiblich besetzte Band.
Niemand anderem als Anja B., anno dunnemals Gitarristin der
Flying Whores
, verdankt ihr diesen Beitrag; sie hat mir sämtliche Aufnahmen, Fotos, Infos, Liedtexte und Zitate zugespielt (nicht vergessen - die Fotos und all der andere Bimbes tauchen erst auf, wenn ihr unten auf
"Zum Rest dieses Posts"
geklickt habt). Zehntausendfachen Dank! Horrido und ab dafür:
"Gegründet haben wir uns 93, damals in der 11. Klasse." Tatsächlich waren alle in der selben Stufe am Max Born Gymnasium (wer's ganz genau wissen will: Judith und Anja in der 11a, Lena in der 11b und Corre in der 11c :0). Dieser
MBG-Abi-Jahrgang
1995 hat ja übrigens noch ne weitere Band hervorgebracht, nämlich die
Naughty Bishops
(und Alexis von
No Host
), aber das ist ne andere Geschichte...
Anja und Corre waren jedenfalls Fans der fabelhaften Bands
Babes in Toyland
und
L7
und wollten endlich auch selbst Musik machen.
"Dann haben wir zwei jahre lang im Jugendhaus geprobt. Tja, um alle zu verwirren, haben wir mehrmals unseren Namen gewechselt. Und hießen daher sowohl
Chaste Nuns
(die keuschen Nonnen, in Anspielung auf die
Naughty Bishops
), als auch
Cellophane Princess
[was ne Idee von Micha Zimmer war, damals ebenfalls bei den
Naughty Bishops
]. Am Ende ham wir uns aber
Flying Whores
genannt und unter dem Namen sind wir beim MBG-Festival auch zum leider einzigen Mal aufgetreten. Nach dem Abi haben wir uns aufgelöst." Ganz zu Anfang standen übrigens noch zwei weitere Namen im Raum, nämlich
Gastric Spasm
und
Wicked Women's Lib
... ha. Anderen fällt dagegen ja nicht mal EIN guter Bandname ein.
---



Proberaum



"Auf den Aufnahmen ist die Vivi schon gar nicht mehr dabei, die müssen von 94 oder Anfang 95 sein. Eigentlich hatten wir zwischendurch noch viel mehr Lieder, aber es haben nicht alle in die Endauswahl geschafft."
Ach ja, die Sachen könnt ihr auch bei Last FM anhören. Sämtliche Songtexte stehen ganz unten.
Boy Fuck You [ Nuff said! ]
Martha and her Murderer [ Der Anfang hat was von Badesalzens "Authentisch" ]

Son of a Bitch [ Wow, ziemlich dramatisch aufgebaut. Und nehmt euch bloß in Acht vor Anjas markerschütterndem Schrei ] , Son of a Bitch Version 2
Lisa [ Yeah, mit zweiter Stimme. Hier singt Corre ]

Payday Teil 1 [ Hihi.. zwar ist das Lied einer der beteiligten zu schnell, doch Corre hat ja noch Orangensaft. Leider sind die Kekse schon alle. Anja spielt Bass ], Teil 2

Die Fotos im Jugendhaus-Probekeller hat damals irgendsoein professioneller Fotograf gemacht - für ein, Achtung, Gemeinschaftskunde-Schulbuch, in dem die Flying Whores dann tatsächlich mitsamt Foto als Beispiel für Freizeitaktivitäten von Mädchen gelandet sind...
Anja aus der Glanz-und-Spannkraft-fürs-Haar-Werbung
Judith, Lena, Corre. Der Jugendhaus-Probekeller war ja immer sowas von feucht. Die Schlagzeugbecken: völlig von dumpfer grüner Patina überzogen, auf dem Podest wuchs sogar mal ein leibhaftiger Pilz, mit Hut und allem drum und dran.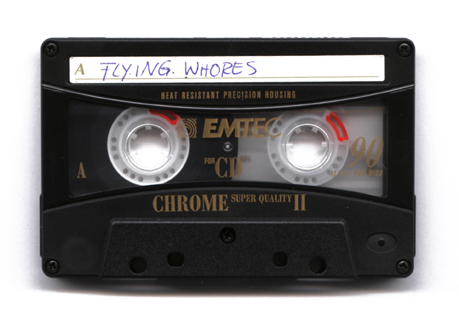 ---
Live beim MBG Bandfestival 17. Februar 1995
Nachdem damals in der Bäbbede (R.I.P.) Stöckchen gezogen worden waren, standen die Flying Whores als Hauptact des 1995er Bandfestivals fest. Yeah. Ansonsten hatten es natürlich mal wieder nur doofe Jungs-Bands auf die Bühne geschafft (z.B. Polyticks, deren Equipment in Form von Moons Schlagzeug und Gonsos Amp auf den Fotos rumsteht), die dann auch noch schamlos ihre Spielzeiten überziehen mussten. Denkwürdig war Jochens Zwischenruf "Weiter, weiter!", der auf der Bühne leider als gnadenlos misogynes "Weiber! Weiber!" ankam.
Hier ein längerer Artikel von Philip Schilling (damals Bassist bei Mondo Weirdo) über die Flying Whores aus dem Street Runner, das war damals die Jugendbeilage der Backnanger Kreiszeitung (anklicken zum Vergrößern):
---
Liebe Gemeinde, welch ein unfassbares Novum in diesem Blog - Texte! Zum Mitsingen! Olé! Danke an Anja fürs Abtippen (bzw. weiss sie die Texte sogar immer noch auswendig....).
boy fuck you
you think you're cool,
playing with me
love withpout a rule
but boy, can't you see

refrain:
why can't you really see
well, i don't need you
why do you do it to me
boy fuck you

once upon a time
i think there was love
but you destroyed it
pushed it to the past

sometimes i waver
i don't know what to do
should i say sorry
i don't remember you
martha and her murderer
martha was a young girl
a girl like me and you
she had a lot of dreams in life
but they'll never come true

it was one friday evening
her life came to an end
she had to give it without sense
no one can understand

the man followed behind her
she heard his panting breath
running through the darkness
the air smelled of death

but suddenly he grasped her
whispering in her ear
"this night you will be mine
i'll fuck you my dear"

refrain:
martha and her murderer
martha and her murderer
her life has reachd the end
the end

martha could not scream
the fear took all her words
his brutal hands were everywhere
without regards to hurt

but then it was all over
and martha saw his eyes
they were full of hate
she knew she had to die

lying in the night
surrounded with her blood
the candle was blown out
the rope of life was cut

son of a bitch
there are you again
and i'm shuddering
i can not stand your slimy face
much to long are you molesting me
hide away and go on crawling in the mud of your senseless life
you're less than nothing

refrain:
contempt is anything i have for you
you're a child of the devil
son of a bitch
i call your name
but i can't take it
son of a bitch, son of a bitch
keep kissing my feet

why are you a disgusting thing
leave me alone
and throw yourself out of a window - a high window
fuck your mother, fuck your father
you're a son of a bitch
shitface, you're an abscess in my brest
everything you do is lying -  liar

you have no aim
but you're pretending
your little servant trust in nothing
come on, unhair your legs kid
see you in hell, babe

lisa
hope to find some pot tonight
hope to hear the rain tonight
inside, inside, inside tonight

refrain:
the rain drowns my sorrow
helps me to find myself
please don't let me meet alone
my soul

banished my thougts inside
banished feelings inside
i'm alive, alive, alive tonight

how could you forget my life
after calling me drug of life
fly, fly, fly from life

payday
squeeze you, squeeze you




hey dick, touch yourself




hey dick, touch ypourself




here is my disgust




in which you very trust




you say a woman should be pretty




you say a woman is nothing without a man





hey i hate you




hey i hate you




you are alive cause a woman has born you




and you know it was a fucking day




you pretend you lie




you pretend you lie





refrain:




see the truth and go back to your fucking roots




your origin is a fucking woman
---