---
Hell Yeah, na endlich: das randvolle Rudel!!!!! Backnangs erste, einzige, für immer allerbeste schlechteste Saufpunk-Fuckrockband!!! Gegründet als wortwörtliche Schnaps- oder eher Bieridee im Mai 1998, aufgelöst nach dem Auftritt beim Abifest im Mai 1999, siehe unten. Die Fotos sind vom Konzi Anfang 1999 im Juze BK. Mehr Gigs als die beiden gabs dann leider auch gar nicht, aber Hauptsache noch vor dem ersten Auftritt ne eigene Website, T-Shirts und hunderte von Aufklebern raushauen, hahaha...!! Ach ja, ein schräges Revivalkonzert musste dann doch noch sein, irgendwann im Juze als Vorkasper von
Waskoschdrmoschd
, mit
Gonso
an der Klampfe. Rekord sind die sage und schreibe neun Bandmitglieder (eins mehr als
Flymoe
), inklusive vier Backgroundsängerinnen. Wer sich also schon lange gewundert hat, dass hier im Archiv bislang keine einzige Frau aufetaucht ist: voilà. Und niemand hatte ja wohl jemals bessere Liedertitel, um nur mal "Bomben auf England (Oi Oi Oi"), "Saufen in BK" oder "Mönschen trinken Bönnschen" (What the..?) zu nennen.
---
Nobis grandios untertreibende Bandauflösungs-Bekanntgabe vom Mai 1999 klang übrigens so:
THE RÄNDFULL ROODLE IS DEAD!
Farewell to the Kings
On Friday, 14 May 1999, The Rändfull Roodle decided to give up the Rock'n'Roll business after a short but intensive period of loud and raw noise.
Several band-members didn't get along with the upcoming signs of popularity and wealth while others felt that the band soon would be exploited by the record-industry if the rise of this great fuckrock act would continue in that way.
We had some great shows and a lot of fun, or to speak with another artist of a fallen band (slightly changed): We didn't make shitloads of money, the kids hated us as well as the underground did.
In the future you gotta watch out for several continuing-projects that will carry on the spirit of fuckrock (as the upcoming Speed Rokkets)

keep on rockin'
nobi suckx, may 1999
---
PS - Was noch fehlt wäre ein Foto des letzten (k)lebenden
Rändfull Roodle
Aufklebers. Der klebt in Backnang nach wie vor und seit ich ihn halt damals da hingebebbt habe am Einfahrt-Verboten-Schild Kreuzung Häfnersweg/Ahornweg. Vielleicht mag ihn ja wer ablichten und einsenden. Nobis Roodle-Aufkleber waren damals im Stadtbild ja fast so omnipräsent wie ein paar Jahre vorher die
No Host
-Sticker.
---

So, erstmal die Aufnahmen vom Abifest 1999, mit Phlippy am Mikro:



Hab heute auf der Suche nach den alten gammeligen Proberaumtapes tatsächlich eine der ersten Bandproben vom 22. Mai 1998 im Unterschöntaler Landluftproberaum gefunden, noch mit Lars am Gesang und nur einer Gitarre:
Äh, ja, und dann noch das Lied über diese holländischen Wassertaxis... Keine Ahnung wie man das schreibt, es klang jedenfalls immer nach "Össekuhp". Dreieinhalb! Ach nee, Scheisse, hab die Aufnahme gelöscht. Kommt die Tage noch.

---
---

Yeah, alle Fotos vom ersten Auftritt Anno 98 im Juze BK. Die Fotos sind von Steffen Bondiek (Naughty Bishops / Spit). Danke an Reiner Dieterich fürs damalige Einscannen.
Herr Jantz: 1a Haltungsnoten für Superposing
Daumen rauf für Supersauf und zeitlos guten Style: 2 Kästen Bier auf der Bühne
Pogoalarm. Vorne Phlippy - eben noch im Publikum, ein paar Monate später schon auf unserer Showbühne.
Man beachte auch das hübsche Banner ("Rändfull Roodle / Fuck Rock / Whimps and posers leave the hall!!")
Jürgen "Uljanov" Maurer gibt alles; Phlippy und noch ein paar alte Bekannte

Rechter Hand: ex-Kommilitone
Ralv Milberg
von
Leergut / Hoodoo Hook Up
, die ich diverse Male nach BK geschleppt habe. Sind an dem Abend auch aufgetreten.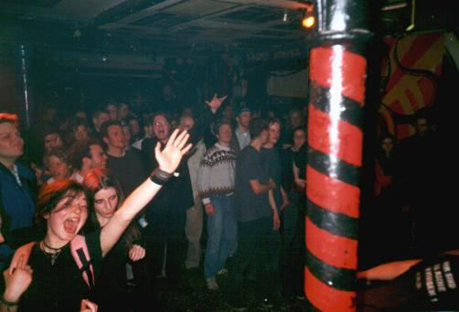 ---